LF Aftershock Siren System
Low frequency sound waves create deep warning tones for enhanced traffic clearing.
Features
​
Introducing Aftershock, SoundOff Signal's first low frequency siren system for emergency vehicles. Aftershock's low frequency sound waves produce deep warning tones, proven highly effective in
traffic clearing. Ideal for high traffic areas and busy intersections, Aftershock is available with
one or two speakers to meet your specific needs. Universal brackets included.​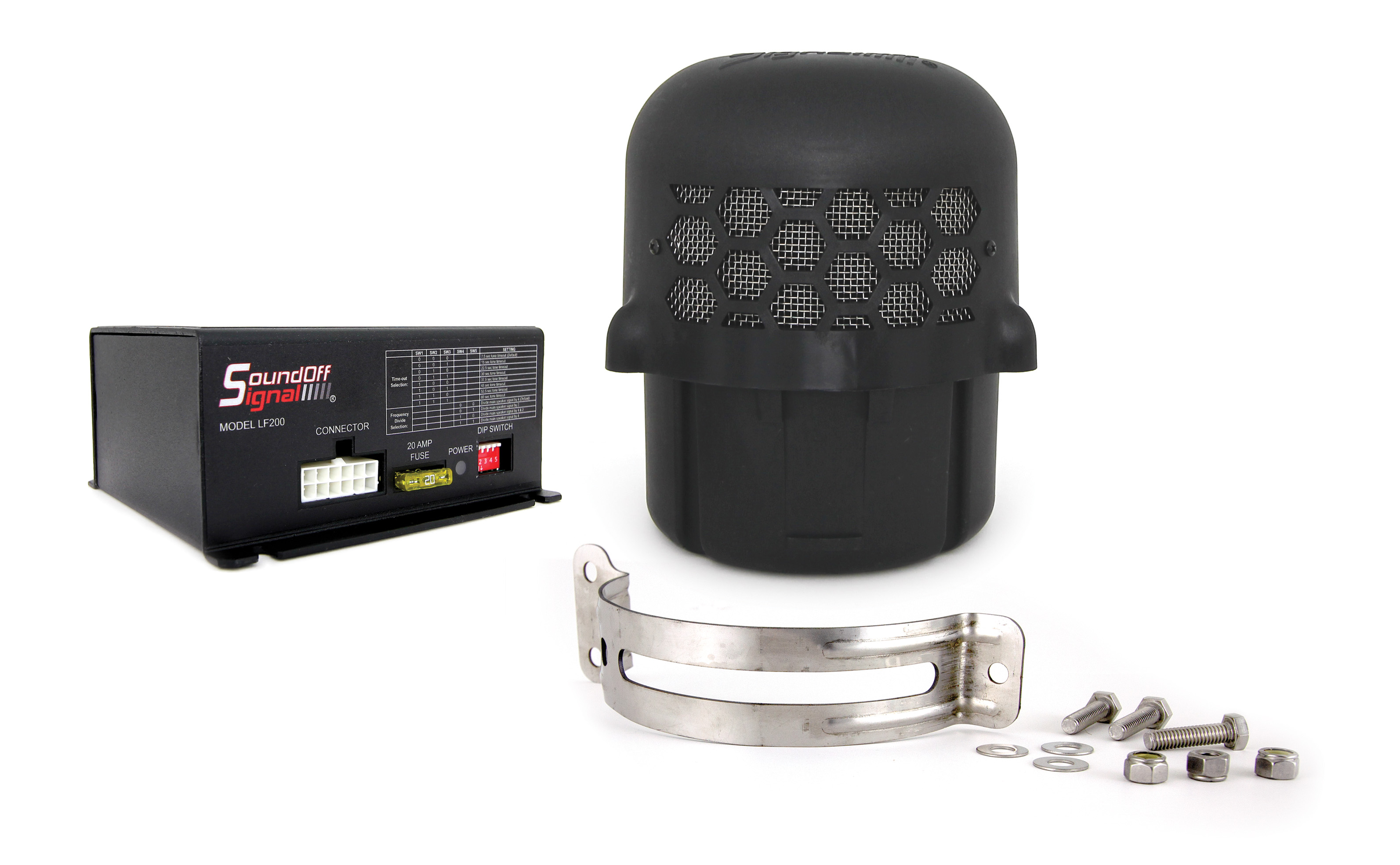 Customer support with unmatched can-do attitude
Tech Specs
Watts

100 Watt
200 Watt (with two speakers)

Input Voltage Range

10-16 VDC

Current Draw

8 Amps @ 100 Watts
16 Amps @ 200 Watts

Output Voltage

58-64Vpk-pk

Dimensions

2.4" (6 cm) H x 4.7" (11.9 cm) W x 5" (12.7 cm) D
Resources
Part Numbers
| | PART NUMBER | DESCRIPTION | WARRANTY | UNIT PRICE |
| --- | --- | --- | --- | --- |
| | ETSKLF200 | LF Aftershock Siren System, includes: (2) 100 Watt Speakers, 200 Watt Amplifier & Universal Brackets | 3 Years | $1268 |
| | ETSSLF100 | Low Frequency Speaker, 100 Watt w/ Universal Bracket | 3 Years | $816 |
| | ETSKLF100 | LF Aftershock Siren System, includes: 100 Watt Speaker, 200 Watt Amplifier and Universal Bracket | 3 Years | $974 |
Accessories
| | PART NUMBER | DESCRIPTION | WARRANTY | UNIT PRICE |
| --- | --- | --- | --- | --- |
| | ETSSLFVBK16 | Aftershock Speaker Bracket (no drill) for the Dodge Ram 1500 (5th generation only) 2019 - 2022, Frame Mount/Passenger Side | 3 Years | $85 |
| | ETSSLFVBK09 | Aftershock Speaker Bracket (no drill) for Ford Utility 2020 - 2022, Frame Mount Driver Side | 3 Years | $59 |
| | ETSSLFVBK15 | Aftershock Speaker Bracket (no drill) for the Dodge Ram 1500 (5th generation only) 2019 - 2022, Frame Mount/Driver Side | 3 Years | $85 |
| | ETSSLFVBK14 | Aftershock Speaker Bracket (no drill) for Chevrolet Tahoe Pursuit & Civilian 2021 - 2022, Frame Mount Passenger Side | 3 Years | $97 |
| | ETSSLFVBK13 | Aftershock Speaker Bracket (no drill) for Chevrolet Tahoe Pursuit & Civilian 2021 - 2022, Frame Mount Driver Side | 3 Years | $97 |
| | ETSSLFVBK12 | Aftershock Speaker Bracket (no drill) for Dodge Ram 1500 (Classic/SSV) 2014 - 2022 capable of holding up to two kits, Frame Mount Driver/Passenger Side | 3 Years | $103 |
| | ETSSLFVBK11 | Aftershock Speaker Bracket (no drill) capable of holding up to two speakers for Ford F-150 2018 - 2022, Frame Mount Center | 3 Years | $113 |
| | ETSSLFVBK10 | Aftershock Speaker Bracket (no drill) capable of holding up to two speakers for Chevrolet Silverado 1500 SSV only 2019.5 - 2021, Frame Mount Center | 3 Years | $60 |
| | ETSSLFVBK01 | Aftershock Speaker Bracket (drill required) for Dodge Durango 2016 - 2020, Frame Mount Center | 3 Years | $59 |
| | ETSSLFVBK07 | Aftershock Speaker Bracket (no drill) for Ford Utility 2020 - 2022, Frame Mount Passenger Side | 3 Years | $59 |
| | ETSSLFVBK08 | Aftershock Speaker Bracket (no drill) for Dodge Charger 2011 - 2022, Bumper Mount Driver Side | 3 Years | $75 |
| | ETSSLFVBK03 | Aftershock Speaker Bracket (no drill) for Ford Utility 2015 - 2019, Frame Mount Driver Side | 3 Years | $97 |
| | ETSSLFVBK02 | Aftershock Speaker Bracket (no drill) for Dodge Durango 2016 - 2022, Frame Mount Passenger Side | 3 Years | $59 |
Service Parts
| | PART NUMBER | DESCRIPTION | WARRANTY | UNIT PRICE |
| --- | --- | --- | --- | --- |
| | PTSSLFHN02 | Adapter Harness for Low Frequency Speaker - connects the siren to the amplifier | 2 Years | $22 |
| | PTSSLFHN01 | Harness for use with Low Frequency Speaker | 3 Years | $22 |
| | PSRNLFANR2 | Low Frequency Amplifier, 200 Watt | 3 Years | $658 |