nROADS™ LED Beacon
Eight modules means 360 degrees of intense lighting coverage.
Features
Available in 2 Different Models to Choose From
 Low Dome with 4 modules
 High Dome with 8 modules
Beacons Can be Configured as Single, Dual or Tri-color for Maximum Functionality
 Single Color: your choice of 3 LED, 6 LED, 9 LED or 12 LED modules
 Dual Color: 6 LED or 12 LED modules (Direct Connect Only)
 Tri-Color: 18 LED modules (Direct Connect Only)
Offset Dual Stack Includes 8 Total Modules that Provide 360 Degrees of Intense Lighting Coverage
Available in Permanent, Magnetic and 1" NPT Pipe Mounts
 Magnetic mount includes a 10 foot cig plug cord with integrated 2-button rocker switch panel
Ability to Customize with All White Illumination to Light Up Work Areas
Cruise and Low Power Modes
Premium Aluminum Base
Durable Polycarbonate Lens
Top LEDs are Optional
 
Product can be configured to meet your lighting needs. Please see order form under Resources to customize.​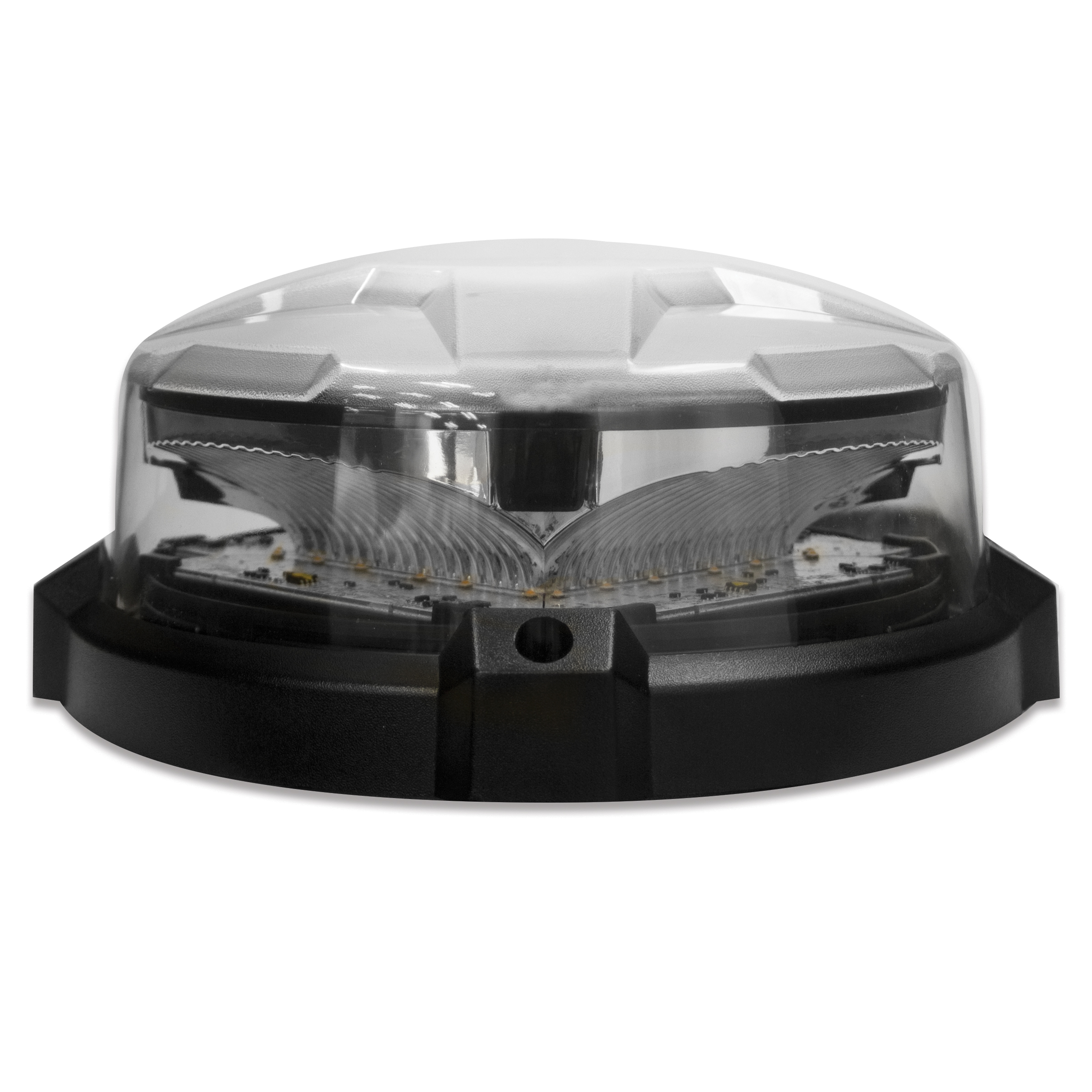 Customer support with unmatched can-do attitude
Tech Specs
Input Voltage Range

10-16 VDC (standard)
9-32 VDC (configured)

Flash Patterns

43; 9 user-selectable modes

Light Sync

Up to 24

Operating Temperature

-40° C to +65° C

Dimensions

Low: 3.6" (9.25 cm) H x 8.6" (21.8 cm) diameter
High: 5.3" (13.4 cm) H x 8.6" (21.8 cm) diameter

Certifications

3 LED Single, 6 LED Dual: J845 Class 2 certified
6, 9, 12 LED Single, 12 LED Dual, 18 LED Tricolor: J845 Class 1 certified
6, 9 LED Single, 12 LED Dual: CA Title 13, certified
Resources
Part Numbers
| | PART NUMBER | DESCRIPTION | WARRANTY | UNIT PRICE |
| --- | --- | --- | --- | --- |
| | ENRBCSHCD (18 LED) | nROADS® LED Beacon (ENRBC) w/ Direct Connect & Flat/PipeMount - Amber or Clear High Dome with Amber, Blue, Green, Red or White / 18 LED Modules | 5 Years | $827 |
| | ENRBCSHCD (3 LED) | nROADS® LED Beacon (ENRBC) w/ Direct Connect & Flat/Pipe Mount - Amber or Clear High Dome with Amber, Blue, Green, Red or White / 3 LED Modules | 5 Years | $467 |
| | ENRBCSHCD (6 LED) | nROADS® LED Beacon (ENRBC) w/ Direct Connect & Combo Mount - Amber or Clear High Dome with Amber, Blue, Green, Red or White / 6 LED Modules | 5 Years | $571 |
| | ENRBCSLMZ (6 LED) | nROADS® LED Beacon (ENRBC) w/ Cig Plug & Magnet Mount - Amber or Clear Low Dome with Amber, Blue, Green, Red or White / 6 LED Modules | 5 Years | $378 |
| | ENRBCSLCD (6 LED) | nROADS® LED Beacon (ENRBC) w/ Direct Connect & Flat/Pipe Mount - Amber or Clear Low Dome with Amber, Blue, Green, Red or White / 6 LED Modules | 5 Years | $346 |
| | ENRBCSHMZ (12 LED) | nROADS® LED Beacon (ENRBC) w/ Cig Plug & Magnet Mount - Amber or Clear High Dome with Amber, Blue, Green, Red or White / 12 LED Modules | 5 Years | $771 |
| | ENRBCSHMZ (18 LED) | nROADS® LED Beacon (ENRBC) w/ Cig Plug & Magnet Mount - Amber or Clear High Dome with Amber, Blue, Green, Red or White / 18 LED Modules | 5 Years | $859 |
| | ENRBCSHMZ (3 LED) | nROADS® LED Beacon (ENRBC) w/ Cig Plug & Magnet Mount - Amber or Clear High Dome with Amber, Blue, Green, Red or White / 3 LED Modules | 5 Years | $499 |
| | ENRBCSLCD (3 LED) | nROADS® LED Beacon (ENRBC) w/ Direct Connect & Flat/Pipe Mount - Amber or Clear Low Dome with Amber, Blue, Green, Red or White / 3 LED Modules | 5 Years | $294 |
| | ENRBCSHCD (12 LED) | nROADS® LED Beacon (ENRBC) w/ Direct Connect & Flat/Pipe Mount - Amber or Clear High Dome with Amber, Blue, Green, Red or White / 12 LED Modules | 5 Years | $739 |
| | ENRBCSLMZ (12 LED) | nROADS® LED Beacon (ENRBC) w/ Cig Plug & Magnet Mount - Amber or Clear Low Dome with Amber, Blue, Green, Red or White / 12 LED Modules | 5 Years | $462 |
| | ENRBCSLMZ (18 LED) | nROADS® LED Beacon (ENRBC) w/ Cig Plug & Magnet Mount - Amber or Clear Low Dome with Amber, Blue, Green, Red or White / 18 LED Modules | 5 Years | $506 |
| | ENRBCSLMZ (3 LED) | nROADS® LED Beacon (ENRBC) w/ Cig Plug & Magnet Mount - Amber or Clear Low Dome with Amber, Blue, Green, Red or White / 3 LED Modules | 5 Years | $326 |
| | ENRBCSHMZ (6 LED) | nROADS® LED Beacon (ENRBC) w/ Cig Plug & Magnet Mount - Amber or Clear High Dome with Amber, Blue, Green, Red or White / 6 LED Modules | 5 Years | $603 |
| | ENRBCSLCD (12 LED) | nROADS® LED Beacon (ENRBC) w/ Direct Connect & Flat/Pipe Mount - Amber or Clear Low Dome with Amber, Blue, Green, Red or White / 12 LED Modules | 5 Years | $430 |
| | ENRBCSLCD (18 LED) | nROADS® LED Beacon (ENRBC) w/ Direct Connect & Flat/Pipe Mount - Amber or Clear Low Dome with Amber, Blue, Green, Red or White / 18 LED Modules | 5 Years | $474 |
Accessories
| | PART NUMBER | DESCRIPTION | WARRANTY | UNIT PRICE |
| --- | --- | --- | --- | --- |
| | PNRLBK03 | VHB Magnetic Plate Adapter Kit, includes: VHB Pad & Metal Plate | 5 Year(s) | $34 |
Service Parts
| | PART NUMBER | DESCRIPTION | WARRANTY | UNIT PRICE |
| --- | --- | --- | --- | --- |
| | PCPNR401 | 4 Button Controller | 2 Year(s) | $183 |
| | PCPNR4HN1 | Jumper Harness - for use with 4 Button Controller | 2 Year(s) | $24 |
| †† | PNRBCBGBH | Beacon Branch Guard Kit, for Flat/Pipe Mount (fits high and low dome, Black Steel), includes: Branch Guard and Beacon Base Plate Kit | 2 Year(s) | $68 |
| | PNRBCDMLA | Low Dome for nROADS® Beacons - Amber | 2 Year(s) | $23 |
| | PNRBCDMLC | Low Dome for nROADS® Beacons - Clear | 2 Year(s) | $23 |
| | PNRBCDMLR | Low Dome for nROADS® Beacons - Red | 2 Year(s) | $23 |
| | PNRBCDRNGB | Black Dress Ring for nROADS® Beacons | 2 Year(s) | $13 |
| | PNRBCDRV1 | Driver Board without Connector for nROADS® Beacons, Mini or Mid-Size Lightbars | 2 Year(s) | $86 |
| | PNRBCDRV2 | Driver Board with Connector for nROADS® Beacons | 2 Year(s) | $86 |
| | PNRBCHNJP1 | Replacement Upward Board Jumper Harness for nROADS® Beacons | 2 Year(s) | $20 |
| | PNRBCLUP6A | Replacement Upward Light Module for nROADS® Beacons - 6 LED Solid Color/Amber LEDs | 2 Year(s) | $41 |
| | PNRBCLUP6B | Replacement Upward Light Module for nROADS® Beacons - 6 LED Solid Color/Blue LEDs | 2 Year(s) | $41 |
| | PNRBCLUP6G | Replacement Upward Light Module for nROADS® Beacons - 6 LED Solid Color/Green LEDs | 2 Year(s) | $41 |
| | PNRBCLUP6R | Replacement Upward Light Module for nROADS® Beacons - 6 LED Solid Color/Red LEDs | 2 Year(s) | $41 |
| | PNRBCLUP6W | Replacement Upward Light Module for nROADS® Beacons - 6 LED Solid Color/White LEDs | 2 Year(s) | $41 |
| | PNRBCMGKT | Magnetic Mount Kit for use with nROADS® Beacons | 2 Year(s) | $42 |
| | PNRBCPLGS | Beacon Base Plate Kit, includes: Base Plate, Gasket & Mounting hardware - for use with nROADS® Permanent Mount | 5 Year(s) | $44 |
| | PNRLBHNP1 | Cig Plug Power Harness for use with nROADS® | 2 Year(s) | $63 |
| | PNRLBHNP2 | Direct Connect Power Harness for use with nROADS® | 2 Year(s) | $37 |
| | PNRLBHNP3 | Cig Plug Power Harness | 2 Year(s) | $104 |
| | PNRBCDMHA | High Dome for nROADS® Beacons - Amber | 2 Year(s) | $34 |
| | PNRBCDMHC | High Dome for nROADS® Beacons - Clear | 2 Year(s) | $34 |